Gifts- Day 1: Gem Elixirz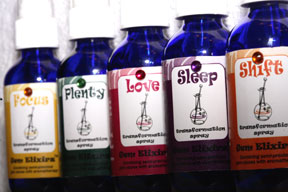 Owner, East Haradin, L.Ac, has created an amazing array of tools for transformation by combining the power of essential oils with gemstones.
Recent research has shown that essentail oils are effective for treating a variety of health problems such as depression, anxiety, pre-mentrual syndrome, and insomnnia. Some of the formulations include:
Sleep: A blend that enhances deep and restful sleep filled with peaceful dreams and inspiration.
Shift: A blend that filters out negative energy, dissolves stagnations, and keeps life flowing freely.
Love: A blend that brings more love to your relationships, attracts new love, opens the heart to give and receive.
Plenty: Brings prosperity & success. Helps keep abundance that is drawn into your life.
Focus: A blend that has been proven to increase test scores by as much as 50%.
TraumaEase: A blend that addresses any kind of trauma be it recent or in the past, physical or emotional.
Each spray is $15.99, but a gift kit of 5 sprays is only $49.00. For more information or to order these amazing sprays go to Gem Elixirz.